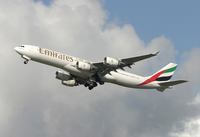 On Friday (June 18th, 2004), I took my first flight on an Airbus A340-500. This was a non-stop flight from Dubai (DXB) to New York (JFK). Emirates launched this service on June 1st, their first passenger service to North America. They currently have a weekly Boeing 747-400 cargo service into New York.
I have been on an Airbus A340-300 before when I flew Gulf Air non-stop from Abu Dhabi (AUH) to Newark (ERK) back in 1994; but I have to say that A340-500 is now my new favorite. It's very quiet, vary spacious, and Emirates has done a phenomenal job with the interior. I purchased an Economy class ticket for US$ 1080 round trip and used 65,000 Skywards miles to upgrade to Business. The flight is scheduled to take 14 hours, but actual flying time was 13 hours and 17 minutes. The flight was nearly full, which surprised me for a two week old route. As far as comfort, this is the second best Business Class I've been in (BA's new Club World is still tops). The full details of the amenities available on this aircraft and the new service to JFK is available on the Emirates web site, but I thought I'd comment on what it's like to spend 14 hours on this plane.
Departure was at 8am local time from Dubai. There is a separate check-in area for New York flights, with additional security. There were also additional security and passport checks at the boarding gate (Gate 25). Once on board we got the usual pre-takeoff beverage. We had a very long run for takeoff, probably because of the extra fuel required for such a long flight. This aircraft is actually capable of up to 20 hours of flying time fully loaded; but damn is it quiet. Now, don't get me wrong, there's still a lot of noise, but it's far less than what you find on a 777. In fact, it's similar to the noise level on the upper deck of a Boeing 747-400.
The seat itself is comfortable and wide. There is more than average leg room because of the unique shape of the seat back in-front of you. I'm 5′ 10″ and was able to stretch out all the way. The first thing you notice is the size of the in-seat LCD monitor. It's a 15″ touch screen which is bigger than anything I've seen on any other aircraft. The UI is also quite slick, though it could be a little more responsive. Emirates calls their system "ICE" which stands for Information, Communication, and Entertainment. You can control the system three ways: by touching the screen directly, using a color LCD touch-screen remote control hidden in the arm rest, or using the controls on the back of the telephone handset which is also in every seat. The calibration on the main touch-screen seemed to be a little erratic, something I've noticed with other PC touch-screens; but otherwise directly controlling the ICE system from the front display was the best option when the seat is in the upright position. When the seat is reclined, you have to use one of the two alternate control interfaces as it's difficult to reach the main screen.
The ICE system has the following capabilities:
Flight information: The standard moving map along with forward and downward looking cameras which provide you with a real time view of the world around you while flying. Now everyone has a window seat. It also provides news headlines from the BBC updated every hour or so during the flight.
Communication: The system has a built-in client for sending and receiving both text messages (SMS) and e-mails. A temporary SMS phone number and e-mail address are created for each passenger and are good for the duration of the flight. You are charged $1 per incoming or outgoing message and they are sent/received in almost real time. An onscreen keyboard is used to input your message. The charge is billed to a credit card which you swipe through the card reader built-into the phone handset. What's annoying is that if you leave the Communication area of ICE, you are no longer notified of incoming messages. To get back to the Communication area, you have to swipe the same credit card again…though your settings are remembered for the duration of the flight.
Entertainment: If you like TV, Movies, or Music you can't get bored on this flight. Almost 500 TV shows and movies are available on-demand, along with a very large library of digital music (like the iTunes Music Store). The video quality is great because it's a DVD quality MPEG2 stream from a central server onboard the aircraft. All First and Business class passengers are provided with special noise canceling headphones, though they aren't good as the Bose ones. A good selection of movies, shows, and music is available and I blame that for preventing me from sleeping the whole flight. 🙂
Now, for the real techie the most important question is how laptop friendly this aircraft is. I can only comment on Business Class, but I have to say this is the most laptop friendly flight I have ever been on. Each seat has a regular power outlet outputting 115v AC. It accepts both US and UK plugs, so you don't need a special airline adapter. There is an RJ-45 Ethernet jack in every seat providing 10/100 connectivity to the onboard LAN, along with an RJ-11 jack in the satellite phone handset for modem/fax communication. Lastly, a WiFi network is available.
The WiFi and Ethernet LANs connect you to an onboard gateway provided by Tenzing which connects over a 128kbps Inmarsat satellite link to the ground. The speed of this connection is supposed to cross 800kbps by 2006. At present, Tenzing only offers a store-and-forward e-mail service which costs $10 for unlimited e-mails per flight. That is for e-mails that are 2k or less, with a charge of $0.10 per additional kilobyte for larger messages or attachments. You can either use their web interface to fetch your e-mail, or download a small configuration program (Windows only) which configures Outlook to use the on-board e-mail proxy for fetching and sending e-mails.
Unfortunately, the system did not seem to be working very well on this flight. I was unable to get an IP address assigned via DHCP over Ethernet, and the WiFi network kept coming and going every few seconds. I don't know if this was an incompatibility with my PowerBook, or a problem with the system. There was a period of about an hour when I tried it when I was able to connect over WiFi reliably and use their web interface to check my personal e-mail accounts and send/receive e-mails. $10 per flight is reasonable, if it works.
I will be flying back on EK 202 next week and will spend some more time trying out this system with my Tablet PC to see if it works better with a Windows laptop. Over all, the flight went by quite quickly and I really do prefer one long flight over two slightly shorter flights and transit through Europe. The amazing thing is that it took me 25 minutes to get off the plane at JFK, go through immigration, get my bags, go through customs, and get into the free Emirates limo service. Just wish they had a lounge at JFK where I could have taken a shower and changed before leaving the airport. Flight touched down at 1:37pm, almost thirty minutes early.